Beskrivelse
Give your CMM a new lease of life!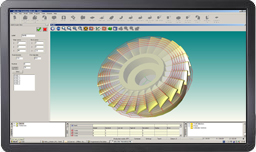 Most CMM structures are not subject to high levels of wear and so remain serviceable for many years. Software, control systems and sensors, however, can become outdated as new, faster and more capable ones are introduced.
A Renishaw retrofit offers the opportunity to transform existing CMMs, providing greater accuracy, faster measurement, more automation and new capabilities, whilst taking full advantage of CAD-driven programming.
Increased measurement capability
Features
Operational benefits

Form – scanning vs. discrete points

Complex profiles – 'scan on curve' vs. multiple scans

Surface finish – controlled, CNC process

Better control of functional fits

Simpler data analysis

Increased consistency

Shorter lead times
Greater software functionality and usability
Features
Operational benefits

CAD-driven programming

Comprehensive, exact DMIS compliance

High-volume data analysis

Graphical reporting

Support for latest sensors

Faster programming

Future proof

'Production mode' operation for faster program execution
Features
Operational benefits

5-axis scanning – faster scanning speeds; less time spent indexing / sensor changing, more time spent measuring

UCC2 controller – optimised motion control

Eliminate bottlenecks

Faster process feedback

Free up CMM capacity to take on other measurement tasks
Features
Operational benefits

Automated stylus changing

Flexible feature access to avoid reorientation of parts

Multi-sensor inspection on one CMM platform

Lower manning levels

Reduced operating costs

Less human error
Supported, open controller
Features
Operational benefits

UCC2 is suitable for all machine configurations

Repair by exchange (RBE) service for all Renishaw components, including the controller

I++ DME interface

Accessible error map

Long-term security

Rapid, cost-effective service

Use any I++ DME-compatible metrology software

Use any machine calibration service provider
Features
Operational benefits

Latest controller, sensor and software platform caters for future needs

CMM software takes full advantage of Renishaw's sensor innovations

Service and support direct from the manufacturer

Flexibility to grow with your business

Fully supported by Renishaw

Long-term security