Beskrivelse
RTP20 offers low-cost 'motorised' head functionality with integral TP20 touch-trigger probe, providing improved productivity, increased reach and flexibility.
The automated indexing of the RTP20 allows the integral TP20 probe to be moved to 168 repeatable positions in 15-degree increments using both the A and B axes, requiring a one-time only qualification for each stylus position thus ensuring fast throughput for part inspection.
Productivity
Improved productivity is achieved via probe module changing and automated indexing without the need for constant re-qualification.
Increased reach and flexibility
A built-in extension together with existing extension bars allow reach up to 168 mm (including maximum stylus length).
Automation
Utilising the CMM motion to lock and orientate the head, together with the MCR20, provides a fully automated system.
Crash protection
TP20 modules have overtravel in all directions. The magnetic mounting provides additional crash protection in X and Y.
TP20 modules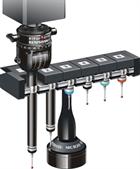 The existing range of TP20 modules provides a selection of trigger forces and directional sensing options as well as increased reach with EM1 and EM2 extension bars. A range of seven application specific stylus modules is available.